Norwegian Fish Mousse Fishkepudding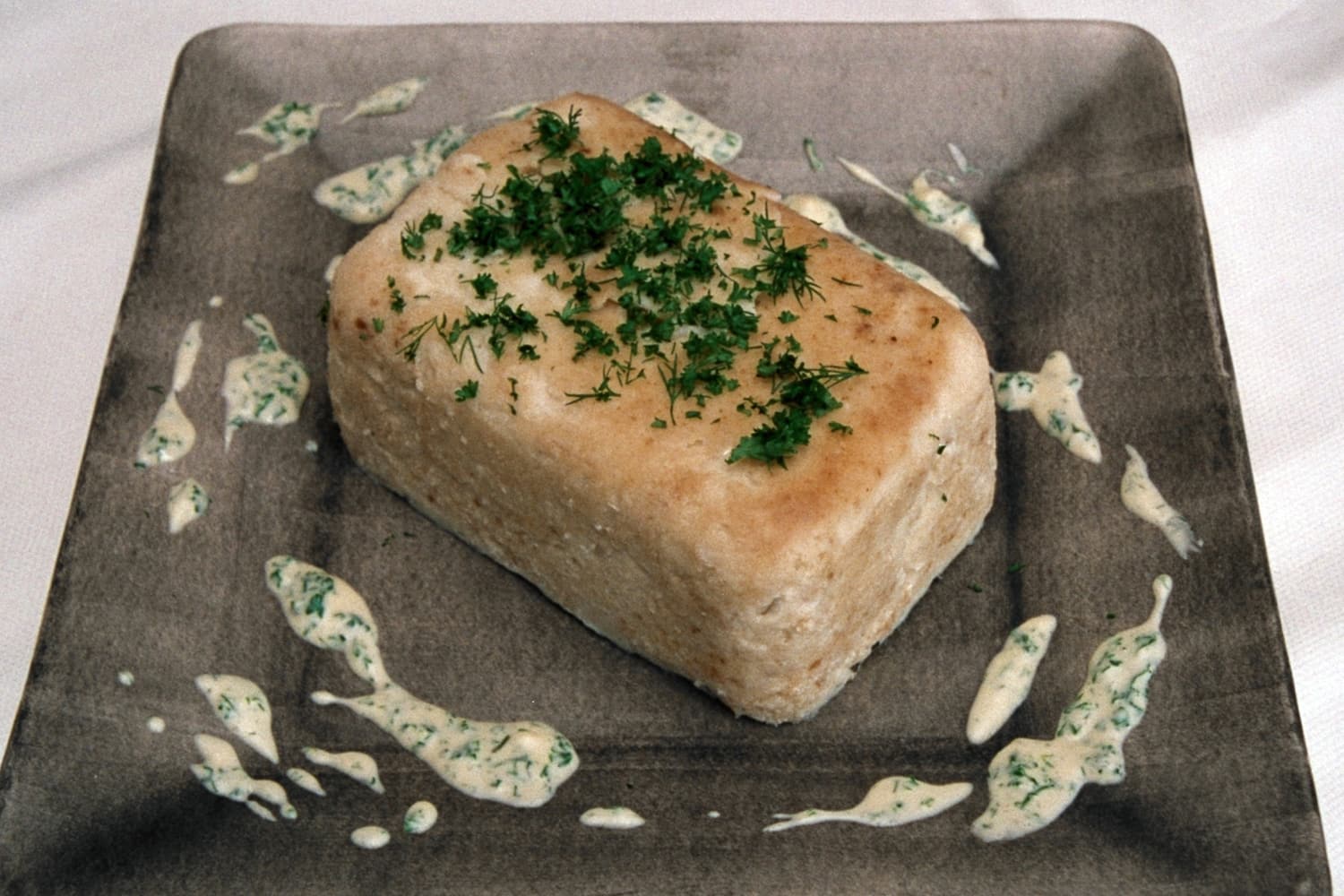 Norwegian fish mousse is a common and popular dish. The mixture is also used to make small fish balls which are cooked in simmering water or milk and for making fish cakes which are fried in a little butter or oil. The fish mousse is white in colour and mildly flavoured it is often accompanied by a shrimp sauce or mustard sauce.
Prep: 15 minutes
Cook: 45-60 minutes
800g skinless white fish fillets (pike, haddock or cod), pin bones removed
2 tbsp potato flour or corn flour
pinch nutmeg
250ml milk
125ml double cream
maldon salt and white pepper
4 tbsp fine dry bread crumbs
herb sauce (recipe below)
boiled new potatoes tossed in butter
green leaf salad or green vegetables
Fish: Mince the fish fillets in a food processor until well minced. Add the potato or corn flour, nutmeg and a little salt and pepper and process until combined.
Gradually add the milk and cream to the mixture while mixing vigorously until it is well combined and the farce is firm and smooth.
To Cook: Preheat an oven to 160°C. Lightly butter a 2 litre oven proof container (a loaf tin works well). Coat the container with the bread crumbs. Fill the container with the fish mixture smoothing it down with the back of a wooden spoon or a palate knife. Cover the container with foil so that it is well covered. Place the container in an oven tray filled with enough water so that it comes 3/4 of the way up the fish mousse container (baine marie). Place the mousse on the centre shelf of the oven and leave it to cook slowly for 1 hour. The mousse is ready when it is firm and cooked through. Remove the mousse from the oven and carefully pour off any excess liquiud from cooking.
To Serve: Invert the fish mousse out onto a large serving plate carefully. Garnish the mousse with finely chopped parsley and dill and serve slices of it at the table or serve it as part of a smoresbord or buffet with herb sauce, new potatoes and a salad or vegetables.
*
Herbs Sauce:
Make a veloute sauce by melting two tablespoons of butter in a saucepan and mixing in 3 tbsp corn flour until the mixture is firm. Bring the stock to the simmer and mix in a ladle at a time of the stock into the roux (butter and flour) until it is all mixed in and smooth. Add 100ml double cream to the veloute and leave it to cook over a low heat for 10 minutes stirring it regularly. The sauce should coat the back of a spoon and be pourable when ready. Mix in 2 tbsp of finely chopped parsley and dill and mix it in until well incorporated. Serve the sauce warm with the fish mousse.