Beetroot Fettuccine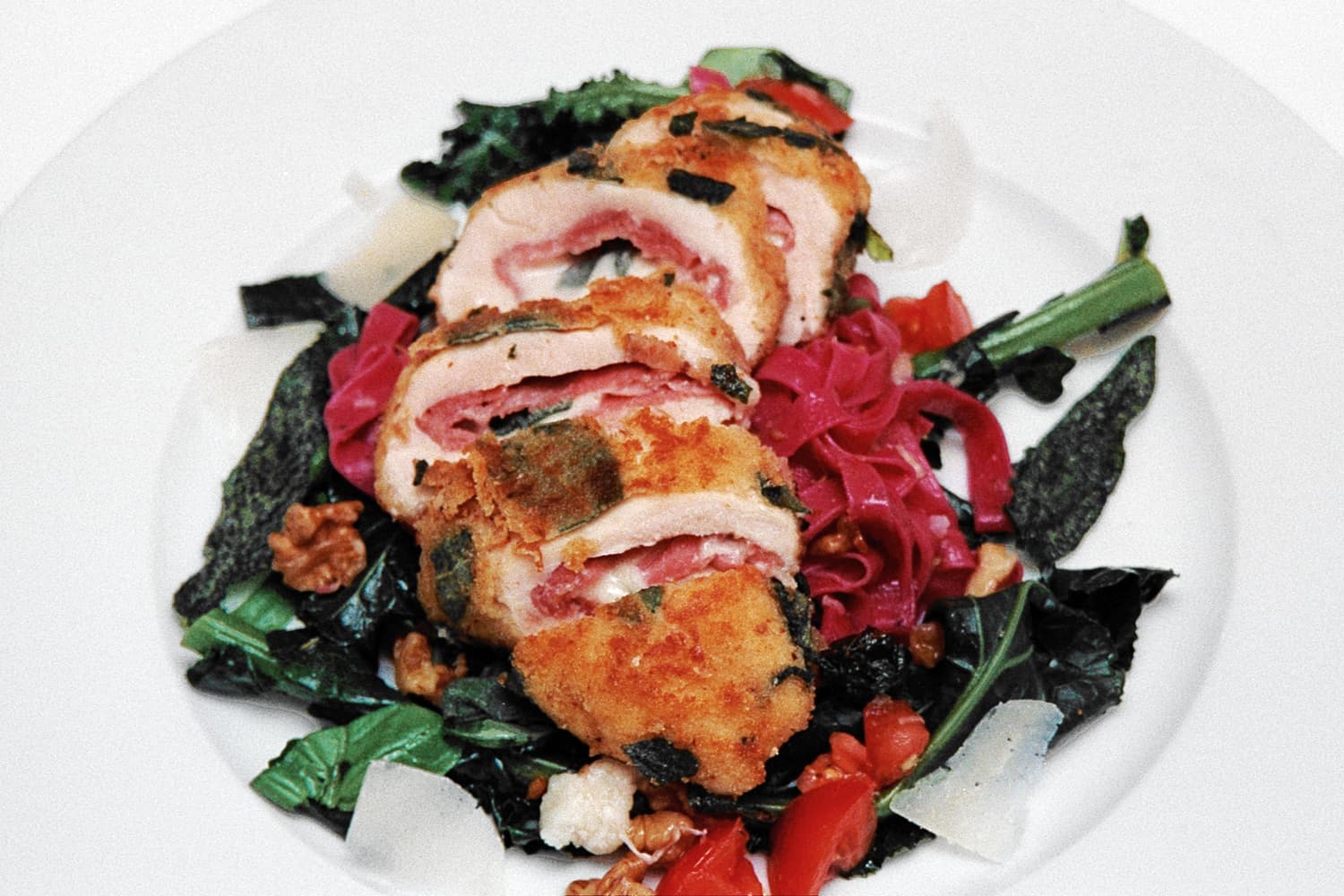 Beetroot gives an amazing colour and flavour to fettuccine.
Prep: 20 minutes (plus 30-60 minutes resting time)
Cook: 2-3 minutes
500g strong flour (00)
2 eggs
3 egg yolks
1 tbsp olive oil
100g pureed cooked beetroot
pinch salt
Food Processor:

Place all the ingredients in a food processor and process it until you have a breadcrumbs like consistency. Tip the mixture out onto a work surface and bring together with your hands so that you have a ball of dough. If it is to dry add a little water and if to wet add some more flour. Knead the mixture for a couple of minutes until it has some elasticity. Make the dough into 4 balls and cover them with cling film and place it in the fridge for at least 30 minutes.

By Hand:

Place the flour out onto a work top and make a well in the centre. In a bowl beat the egg, oil and beetroot together, pour this mixture into the well in the centre of the flour. Using your your hands bring the flour into the egg mixture and gradually combine it until you have a dough. Knead the dough for couple of minutes until it is firm and has elasticity. Make the dough into 4 balls, cover them with cling film and place them in the refrigerator for at least 30 minutes.

Fettuccine:

Remove the dough from the refrigerator and starting with one ball of dough roll it out so that it is around 1 c-1.5 cm thick. Set a pasta machine to the lowest setting and pass the pasta through it 3 times. Then set the pasta machine to a higher setting and pass it through, then reduce the setting and repeat the process to the last or second last setting so that the pasta is very thin and long. If the pasta comes sticky dust it with a little flour. Cut the sheet of pasta in half and pass each sheet through the Fettuccine setting on your pasta machine. Hang the pasta up on a wooden pasta holder or weighted broom handle. Repeat this process with the remaining pasta.

Storage:

Cook the pasta soon after preparing it or leave it to dry or 3-5 hours and then store it in a sealed storage container in a cool place for up to 3 months.

To Cook:

Bring a large pot of boiling water to the boil and place the pasta in it and cook it for around 2 minutes until al dente. Toss it in your chosen sauce. The pasta goes well with a spicy chilli seafood mixture or try my quick and easy walnut sauce.