Jungle Curry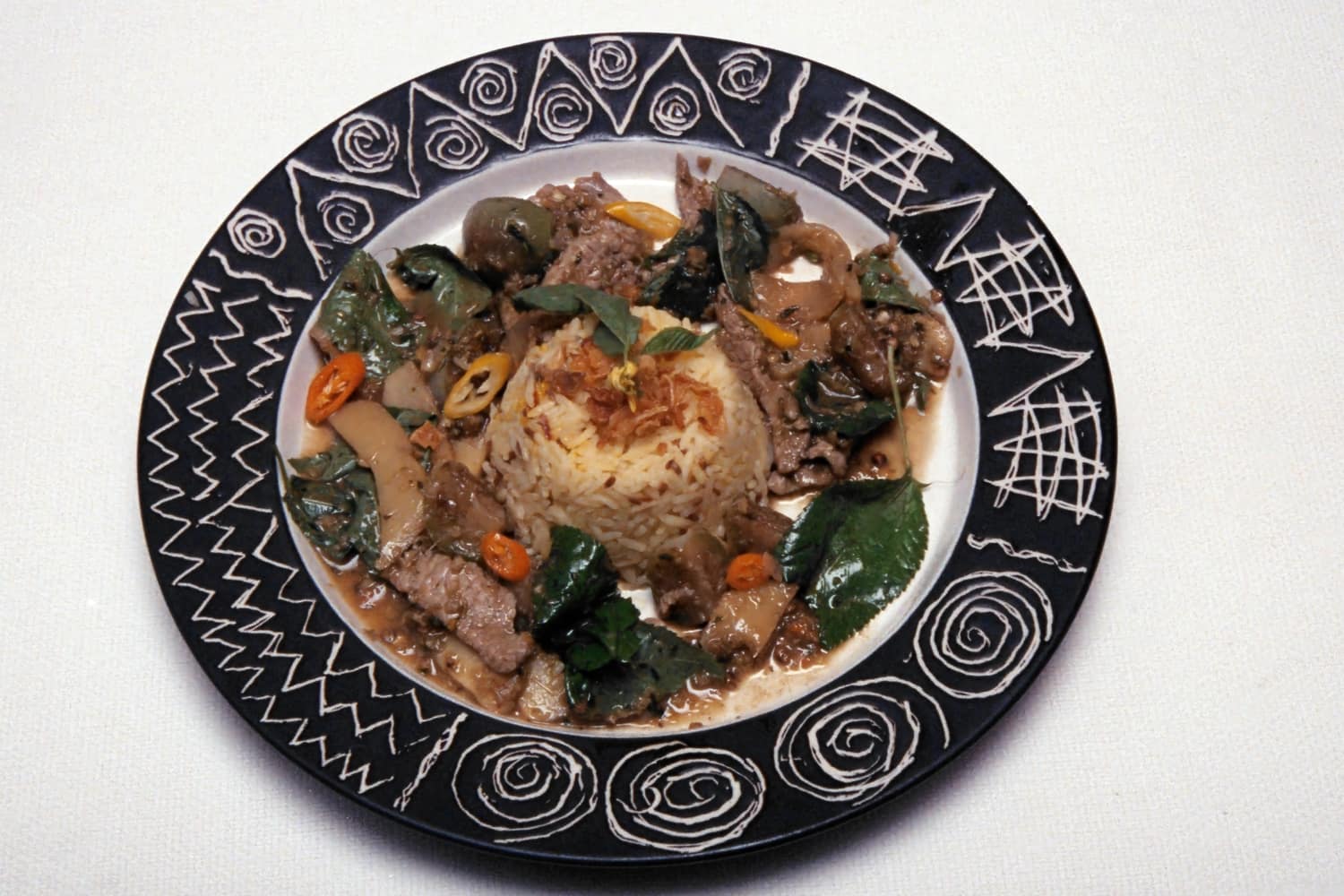 This Thai curry is unlike many of the Thai curries that you will be familuir with. this curry contains no coconut milk and has a water consistency. Jungle curry is a country curry that was originally prepared from wild boar but these days it is mainly prepared from pork or chicken. If you can get your hands on some wild boar its worthwhile, as the flavour exceeds that of domestic pork.
Prep: 15 minutes
Cook: 10 minutes
5 green chillies
1 tbsp white peppercorns
1 lemongrass stalk, finely sliced
4cm piece galangal or ginger, peeled and finely chopped
3 kaffir lime leaves, shredded or zest of 1/2 a lime
1 tsp shrimp paste
6 garlic cloves, peeled and chopped finely
5 small shallots, finely chopped (small purple ones are the best)
2 tbsp coriander, chopped (optional)
600g wild boar, pork fillet or chicken fillet, sliced into thin strips 3-4cm in length and 1cm wide
60g bamboo shoot slices (canned)
16 pea aubergines or 4 small aubergines, trimmed and quartered
2 tbsp oil
400ml water or chicken stock
1 tbsp Thai fish sauce
1 stem of green peppercorns *(optional)
4 tbsp holy basil leaves*
Steamed or boiled rice
Jungle Curry Paste:In a dry frying pan dry fry the peppercorns until the begin to crackle. Remove them from the pan and allow them to cool. Place the chillies and peppercorns in a mortar pestle and grind to paste. Add the remaining ingredients and grind to a smooth paste or place all the ingredients in food processor and blend to a paste.
Curry: Heat the oil in a deep frying pan or wok over a moderately high heat when hot add the curry paste and cook until aromatic. Add the meat and stir so that it is coated with the paste and sealed. Pour in the water and fish sauce and bring to the boil. With a slotted spoon remove the meat from the pan and set aside in a warm place until ready to serve. Remove 3/4 of the water. Reduce it to a simmer and add the bamboo shoots and aubergines and cook until they are tender. Return the meat to the pan and stir in 2 tbsp of the basil leaves and serve.
To Serve: Place the curry onto a deep plate or bowl and garnish it with the peppercorns and remaining basil leaves. Serve with cooked Jasmine rice.
* Peppercorns on a stem available from many East Asian grocers. While they add some authenticity to the dish at times they can be difficult to find.*Holy Basil leaves are available from many East Asian Grocers, they have a very pungent flavour. If you are unable to find them replace them with basil while it hasn't the same flavour there are some similarities.