A taste of the country
Doherty, Jimmy
ISBN: 9780718148164 Publisher: Michael Joseph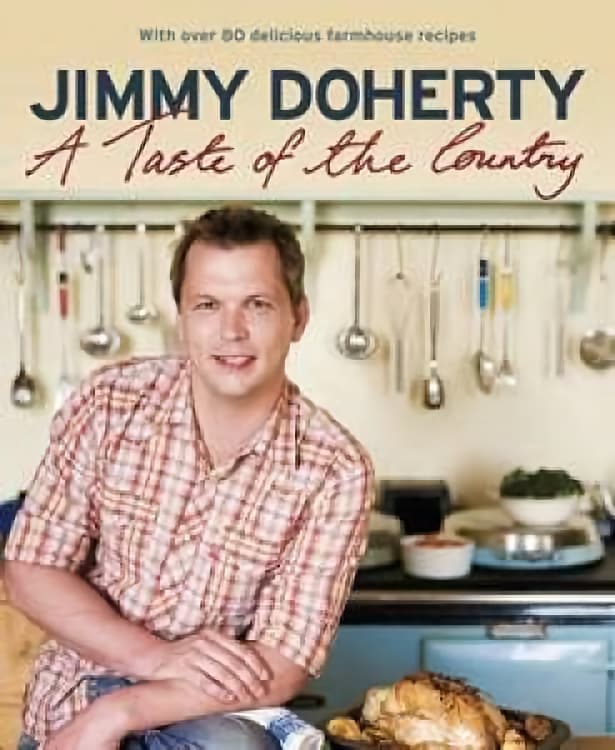 Please buy your cookbooks through us, as we use all commission to buy more books to review.

    Click Here to buy from Amazon UK

    Click Here to buy from Amazon USA
A Taste Of The Country is described as a traditional cookery book. This is true, but it offers the reader more, as we are taken on a personal journey that is Jimmy Doherty's life on his farm. If you have every hankered after The Good Life, as in the TV series of the same name, then reading this book will both encourage you and warn you about the enormity of the task in hand. From growing a few herbs in the garden of his student flat to running a farm is not the easiest transition, but we are fortunate as Jimmy has not only succeeded, but has brought out this lovely cookery book.
Jimmy believes in rearing traditional breeds, like Essex, Berkshire and Gloucester Old Spot pigs, Soay and Jacob sheep and Red Poll cattle. These breeds are considered rare, as they are slow growing, and not deemed suitable in intensive farming and have been abandoned by the mainstream farmers. We are lucky there is a resurgence in rare breed farming, for not only are these animals part of our heritage, they provide biodiversity that safeguard important food sources. We, personally, buy our meat from butchers and farm shops that can provide traceability of the produce they sell. This is the message Jimmy Doherty delivers within his book, that you should know where your meat comes from and the method of farming used to rear it, to ensure a high quality of life for the animal.
The book is divided into five chapters, being On The Farm, In The Wild, The Great Outdoors, In The Garden and In The Kitchen. Each chapter is then divided into the various subjects covered within. So, On The Farm has Pig, Lamb, Beef, Chicken and Eggs. In The Wild, on the other hand is divided into the four seasons. The Great Outdoors covers cooking out doors, with good advise on cooking on fires and barbeques. In The Garden takes you through the growing of your food and what to plant, when. Finally, In The Kitchen is full of advice and hints to help you around the kitchen.
As this is a cookery book, lets look at some of the recipes. The first recipe in the On The Farm chapter, and just happens to be my daughter's favourite, is Toad-In-The-Hole. Others from the chapter are Baked Ham, Boiled Beef and Carrots and Spinach Omelette. From The Great Outdoors I have selected Spit-roasted Stuffed Salmon, something my wife is keen to try, or Mussels cooked in a sack. So, while Jimmy is not a real chef, his book is a collection of tasty recipes that will even inspirer the agroaphobic among us to get out into the country and give it a go.
Jimmy Doherty has taken the plunge and is living his dream. His fly-on-the-wall coverage brought him fame, but it was only through hard work that he managed to make a success of his farm. This book is a peek into his world through the food he and his family like to cook. It is a cookery book that is fun and a joy to read.