Brilliant Bread by James Morton
Morton, James
ISBN: 9780091955601 Publisher: Ebury Press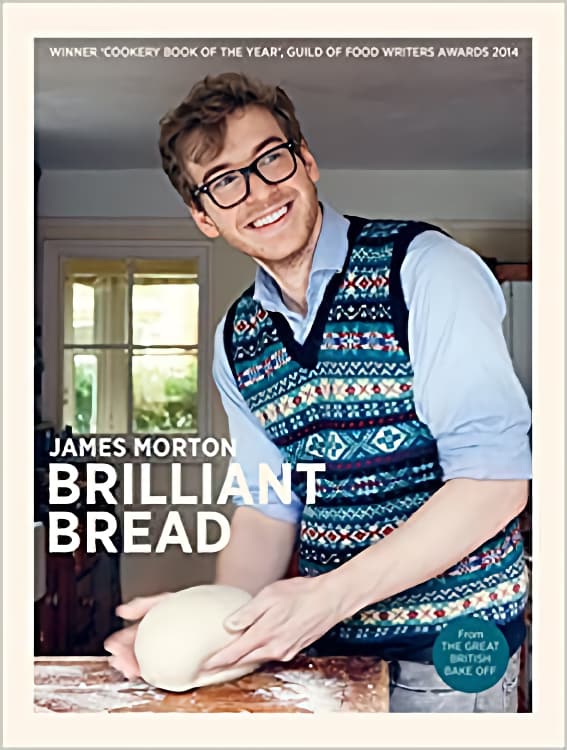 Please buy your cookbooks through us, as we use all commission to buy more books to review.

    Click Here to buy from Amazon UK

    Click Here to buy from Amazon USA
If your lucky enough to live in the UK, or we able to watch the Great British Bake Off, then the sight of James working up some wonderful bakes will still stick in the mind. He was able to inspirer us, entertain us and impress us in equal measure as he worked his way through the competition. So I was pleased to discover he has a book for all those who love making bread. He has given his book an unassuming name, being 'Brilliant Bread.'
Given the numerous books available on the subject of baking bread, why is his book any better, you may wonder? Well, as James states, 'it is for someone who loves making bread at home, but not by a professional baker with scaled down commercial recipes.'
So to get us to be good home bakers, James has laid out his book to allow us to understand that basics, his introduction chapter, Understanding Bread, assumes no knowledge. It introduces you the basic ingredients: flour, yeast, water, sugar and salt. It also discusses the tools you will need to bake bread, though these are very few and almost every kitchen will already meet the requirements. Finally, we learn about the steps involved in bread baking, which are: weigh, mix, knead, rest, shape, prove, score and bake. Simple, really!
Once you manage to get through the introduction we move on to Basic Breads. Here we find the Basic White recipe, the one you really need to master. Once that is conquered, you will find recipes for: Soft or Crusty Rolls, Wholemeal Bread, White Pita, Focaccia, Tea Loaf and Mug or Anywhere Bread.
Next chapter is Bread Revolution, which will either extend your knowledge or just plainly confuse you. It compares the old and new ways of baking bread. Then the chapters return to the different types of breads that you can create, as in fougasse, 100% wholemeal, naan bread, pain de mie, great gluten free bread, bagels, pizza and breadsticks to name a few. Other chapters include: Breads with Bits, Advanced Yeasted Breads, Sour and Laminated Breads.
If like me you like baking bread, but need to extend your repertoire, then this book will take your knowledge and confidence to the next level. It is one book I will keep handy, as I am very keen to try the recipes that James has brought us, which is the best recommendation I can give.