Chickpea and Kidney Bean Falafels with Tahini Sauce and Lebanese Salad
Falafels are traditionally prepared with chickpeas and white haricot beans, but in this recipe I use kidney beans which add colour and flavour to the traditional version. Falafel's are usually deep fried but as this could be considered by some as unhealthy I find that shallow frying in olive oil works perfectly well.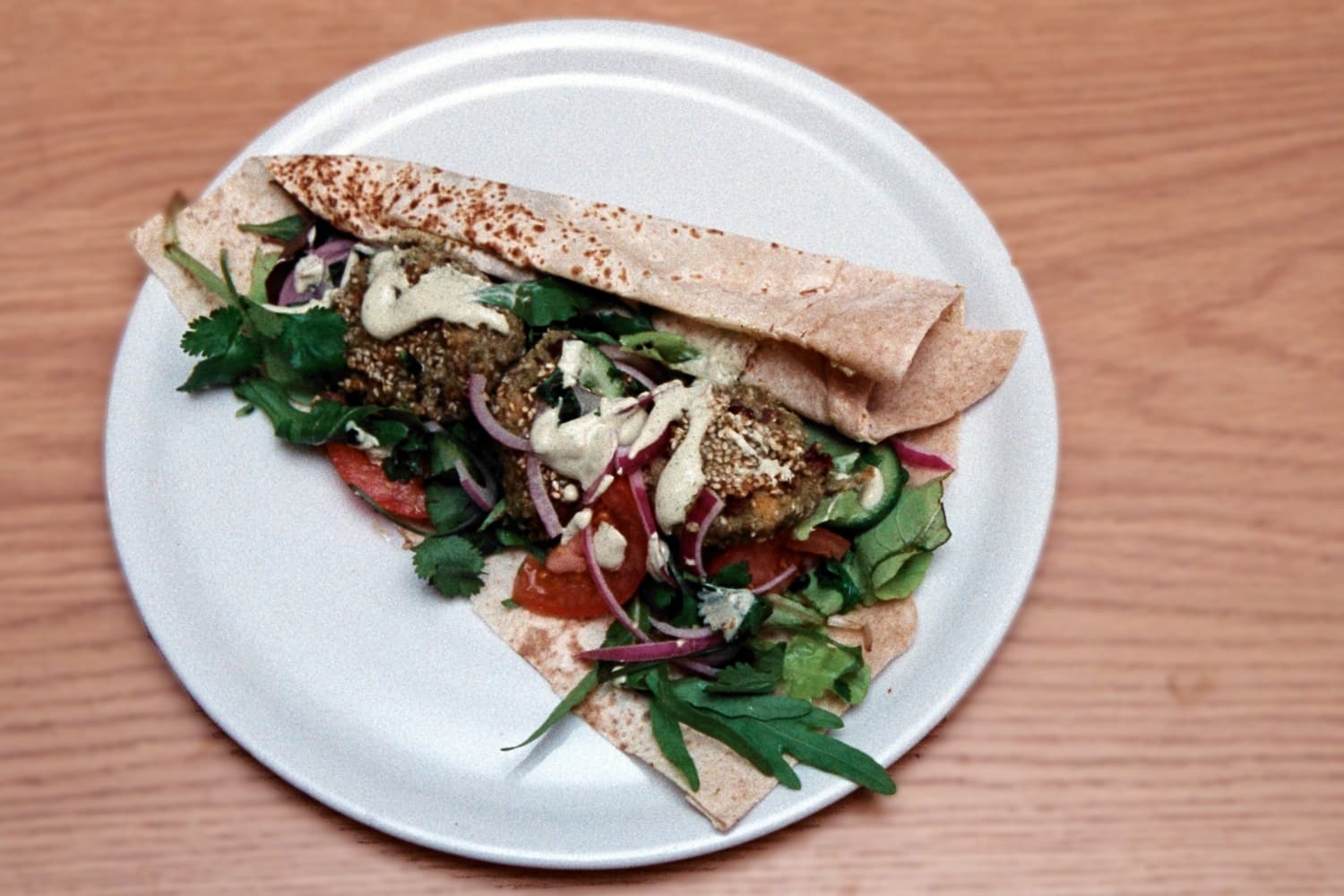 Preparation: 20 minutes
Cooking: 10 minutes
Ingredients
Falafel
250g canned chickpeas
250g canned red kidney beans
3 garlic cloves, finely chopped
6 spring onions finely chopped
1/2-1 tsp chilli powder
2 tsp ground cumin
2 tsp ground coriander
1 tbsp. Sesame seeds
3 tbsp coriander, chopped
3 tbsp parsley, chopped
1/2 tsp baking powder
pinch sea salt
4 tbsp fresh breadcrumbs
Tahini Sauce (Tarator bi tahini):
150g tahini paste (sesame paste)

*

4 garlic cloves, finely chopped
juice of 2 lemons
125 ml warm water
2 tbsp parsley, chopped
maldon salt and freshly ground pepper
Lebanese Salad
2 tomatoes, sliced
1/2 cucumber, finely sliced
1 Spanish onion, peeled halved and finely sliced
100g mixed salad leaves, (4 generous handfuls)
To Serve
Village bread or Pita bread
Pinch ground chilli or paprika
Method
Falafel:

Place all the falafel ingredients in a food processor (drain the liquid from the canned chickpeas and kidney beans well) and puree until the mixture is well combined and pureed but not smooth (you still want some texture in the falafel's with abvious kidney beans). The mixture should not be runny but firm. At this stage you may refrigerate the mix until ready to cook. With your hands make small golf ball sized discs with the falafel mixture.

To Cook:

Heat the olive oil in a frying pan over a moderate to high heat until the oil is hot, cook a few falafel's at a time in the oil for 1-2 minutes on either side, when they are cooked keep them warm in the oven while you prepare the rest.

Tahini Sauce:

Place all the ingredients in a food processor and blend until you have a smooth sauce. If the sauce is to thick add a little more water. Allow the sauce to cool before serving.

To Serve:

Lay the bread out on the plates if you have pitta bread open them up. Place the salad ingredients in the bread and place the falafel's on the salad with at least 3 per person drizzle over the Tahini sauce and sprinkle over a little chilli powder or paprika. Serve
*Tahini paste is available in jars from most supermarkets
Support our site. Visit our sponsors!
Copyright Foodie LLC 1999 - 2010 (No reproduction without permission.) | Designed by edg3.co.uk | Valid CSS & XHTML