Fisherman's Basket
This dish is just a glamorous version of fish and chips. Lets be honest most of us have loved good fish and chips since we were children, unfortunately this is becoming rarer these days. When I was a child I used to get a mixed deep fried seafood from a shop on the beach I used to go to, the selection included fish, scallops and calamari rings.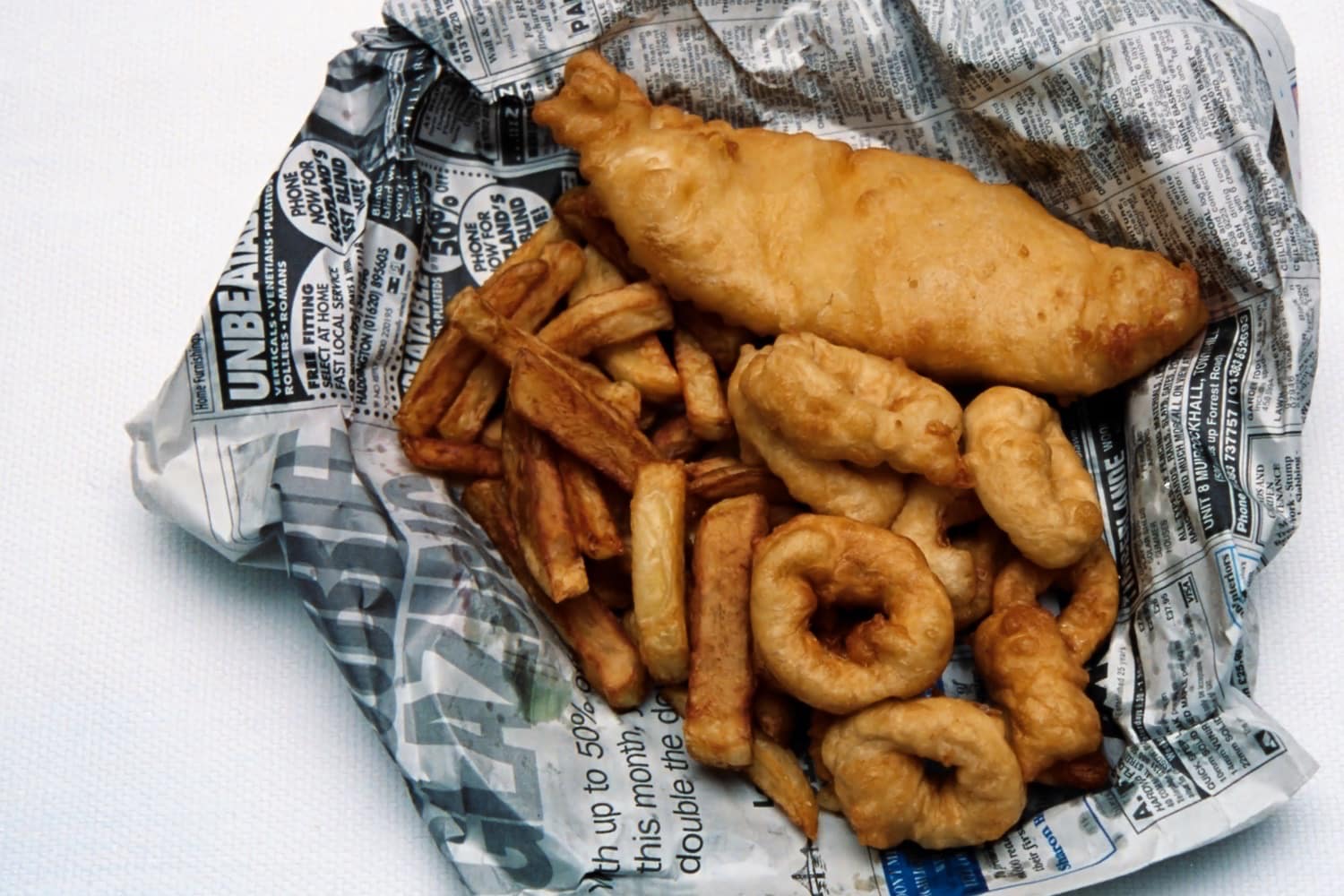 Wine Recommendation: Sparkling wines weather from France or Italy will be spot on for fried seafood as it cuts through any kind of residual oilyness. See The Mixed Case for details
Preparation: 15 minutes
Cooking: 10 minute
Ingredients
Seafood
12 King scallops, roes and tough mussel on sides removed (you my leave the roes on if you like them)
12 medium-large raw prawns, peeled and deviened
300g small-medium squid
600g monkfish (dark membrane removed), cod or haddock, cut into large bite size pieces
100g rice flour or plain four
maldon salt and freshly ground black pepper
Batter
400g self raising flour
200ml beer
2 egg yolks, beaten
Chips
800g floury potatoes e.g. Maris Pipers
Oil for deep frying
salt
To Serve
chips (see below)
tartar sauce (see recipe)
lemon wedges
Method
Seafood
Clean the squid, remove the quell, innards, beak and eyes, and peel off the outer skin. Cut the squid into 1 cm rings and leave the tentacles whole, set aside while you prepare the batter.

Batter:

Mix the flour, salt and pepper in a bowl, make a well in the centre and pour in the beer and egg yolk. Mix the batter until smooth.

To Cook:

Preheat oil in a deep fryer, wok or a deep saucepan to 180°C-190°C. Mix the flour with the salt and pepper together in a bowl or on a plate. Coat the seafood in the flour and then the batter. Shake off any excess batter and deep fry the seafood in batches until the are golden and float to the top. Remove them from the oil and drain on kitchen paper, keep the seafood warm while you cook the rest.

To Serve:

Serve the seafood in paper boats made from newspaper or on squares of newspaper. Accompany the seafood with chips, tartar sauce, see our recipe, and lemon wedges.
Chips
Peel the potatoes and cut them into wedges 5-7cm long and ˝-1cm wide and thick. Place the potatoes in a bowl of cold water and leave them to stand for 10-30 minutes or rinse them thoroughly in cold water. Remove the potatoes from the water and dry them thoroughly.
Heat some oil in a deep fryer, wok or large saucepan to 150-160°C (the oil should half fill the container). When hot cook the potatoes in batches for 4-5 minutes until they are tender but not golden, drain the potatoes on some kitchen paper (It is important not to overcrowd as this will reduce the cooking temperature and will stop them from cooking evenly). Heat the oil to 180-190°C and cook the potatoes in batches for 1-2 minutes so that they are golden and crisp, when removed from the oil place them on kitchen paper to drain. Sprinkle with a little salt and serve. *To test the temperature of the oil use a thermometer or to test it has reached 190°C drop a cube of bread in it and the bread should float to the top.
Support our site. Visit our sponsors!
Copyright Foodie LLC 1999 - 2010 (No reproduction without permission.) | Designed by edg3.co.uk | Valid CSS & XHTML